Event Registration - Michigan Downtown Association

Annual Statewide Michigan Downtowns Conference
10/18/17 - 10/19/17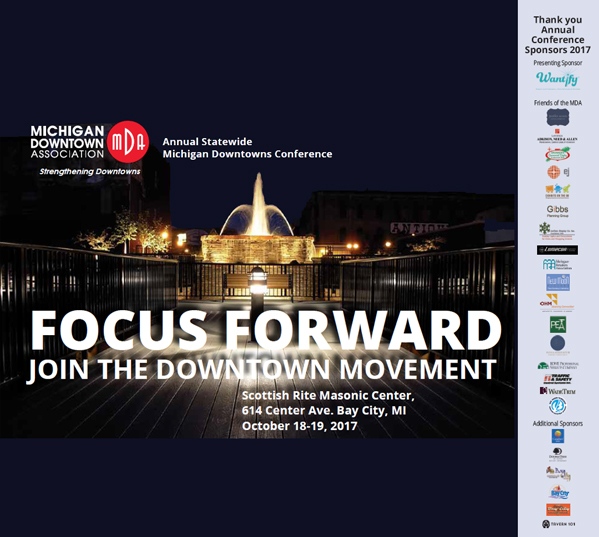 BROCHURE
FOCUS FORWARD
JOIN THE DOWNTOWN MOVEMENT
Wednesday, Oct. 18 & Thursday, Oct.19, 2017
Scottish Rite Masonic Center
614 Center Ave.
Bay City, MI 48708
HOTEL:
Comfort Inn and Doubletree Hotel for $109 per night.
REGISTRATION:
Early Bird (register before Oct. 10):
MDA Member: $160 Non-Member: $205 Student: $50
Registration after Oct. 10 or at the door:
MDA Member: $185 Non-Member: $230 Student: $55
Cancellations made within 72 hours of the event cannot be refunded.
Keynote on Wednesday 10/18:
Dan Gilmartin, Michigan Municipal League
Sessions on Wednesday 10/18:
*Maximizing Stakeholder Relationships -
Paul Zelenak, City of Linden & Nik Banda, City of Rochester
*Leveraging Community Assets to Create an Impact -
Emily Pantera, Pantera Consulting & Kristi Hazard, Consultant
*Presentation: Seven Tips for Keeping Private Investors Coming Back -
Jenifer Acosta, Jenifer Acosta Development
Sessions on Thursday 10/19:
*Presentation: How to Think Like a Developer & Love Like a Preservationist -
Donovan Rypkema, Place Economics & Jessica Flores, Preservation Forward
*Driving the Roadmap for Your Downtown -
Jackie Lovejoy, Dearborn Area Chamber of Commerce & Bob Thomas, Michigan Association of Chamer Professionals
*Trends in the Craft Alcolhol Industry -
Kelly Allen, Adkison Need & Allen; Jon Good, Green Door Distillery; Tony Grant, Northern United Brewing Company; & Dan Riley, Axle Brewing
*Plenary Session: Justification for Downtown Management & Historic Preservation - Donvan Rypkema, Place Economics
*Presentation of the first MDA Annual Awards
*Legislative Update
There will be an MDA Meet & Greet on Wednesday 10/18 beginning at 5:30 at Tavern 101, 101 Center Street in Bay City. Appetizers provided, cash bar, dinner on your own.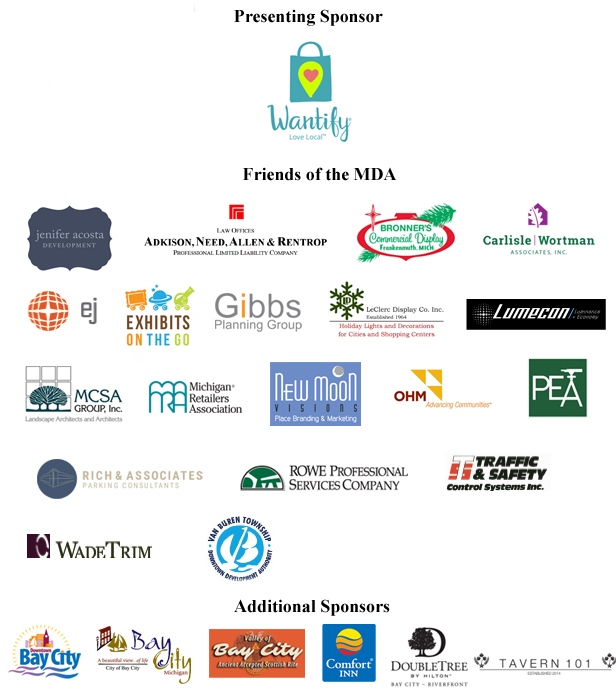 Location: Scottish Rite Masonic Center, 614 Center Ave., Bay City, MI 48708