Event Registration - Associated General Contractors of New Mexico
Project Manager/Superintendent - Leadership Development Program PART 2
5/21/2019 - 6/25/20193:00 PM - 6:00 PM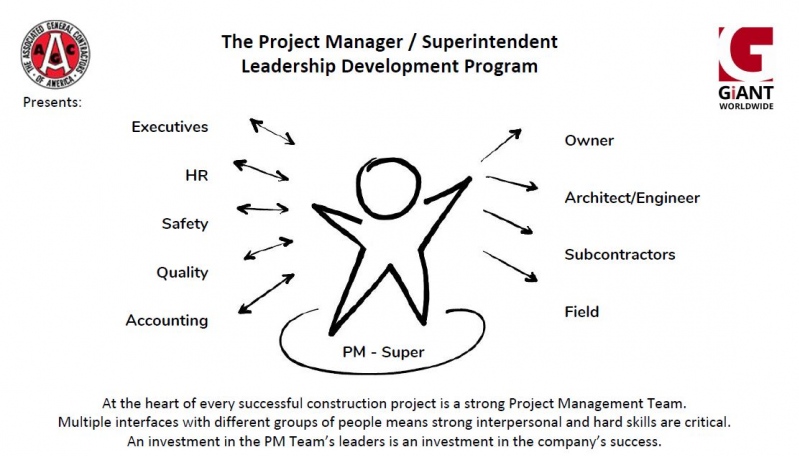 ---
Program Schedule
Participants will meet for 3 hours every Tuesday over 6 weeks.
Time: 3:00-6:00 PM (2 hours invested by the employer, 1 hour invested by employee in self) ** SNACKS PROVIDED
Follow-up group coaching calls: once per month for 6 months to create accountability and reinforce learning
Leader 360 Assessment will be conducted at the beginning of the program.
---
AGC PM/Super Leadership Development Program Part
2
WEEK 1: Discover Your Voice. Learn the behaviors and value of each of the 5 Voices and identify your foundational Voice, communication style, and the strengths and challenges of each Voice. This will be a refresher and further development of the work done in Phase 1.

WEEK 2: Optimizing Team Performance. Get the best from each person on your team by learning to leverage and trust the strengths of their Voices.

WEEK 3: The Multiplying Leader. Learn the multiplication methodologies used to successfully transfer skills, knowledge
and
expertise to your team: Informing, Training, Coaching and Apprenticeship.

WEEK 4: Capacity Coaching. Understand when to be more assertive or responsive. Learn about the Push-Pull behaviors every leader needs to develop to alter the culture positively and quickly.

WEEK 5: The Apprenticeship Challenge. Learn how to apprentice someone. This type of multiplication is crucial to building a sustainable, healthy, and productive organizational and leadership culture for the long term.

WEEK 6: Team Kryptonite: Apply practical tools to avoid the five main reasons why your team will not achieve its potential.
---
Successful companies are not accidental - they are intentional. It's more than process, budgets, and schedules - it's also about mindset, relationships, and influence. Many Project Management teams leave influence (and opportunity) on the table every day without even knowing it. We'll make sure that's not your PM team.
---
Location: AGC Career Center, 1615 University Blvd NE, Albuquerque, NM 87102