Event Registration - San Diego Mountain Biking Association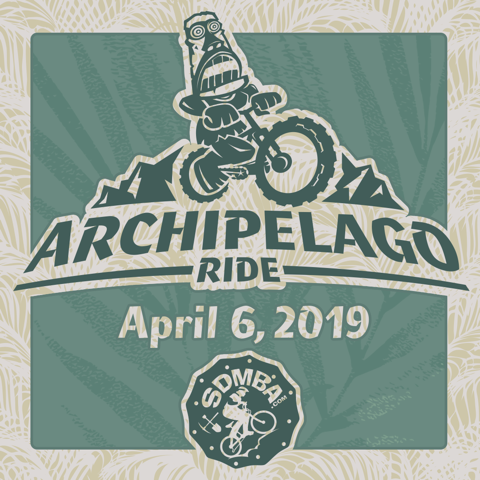 2019 Archipelago Ride
4/6/20196:30 AM - 5:00 PM
2019 Archipelago Mountain Bike Ride presented by the San Diego Mountain Biking Association
April 6, 2019
Fluff up that grass skirt and get your TIKI on at this SDMBA signature event!
The SDMBA team is hard at work planning the 2019 edition with more surprises than ever including the first ever "Half Arch" Ride! The finish line luau at Green Flash Brewing Co. will be the best ever with the fun overflowing in the parking lot with more food, vendors, and cold beverages than any year before! Families, friends and cheering squads are invited to join in the fun!
---

"Full Arch" Ride: Riders will meander their way from San Elijo Park to Green Flash Brewing Company. in Mira Mesa, experiencing a variety of terrain through the open spaces of central San Diego County. The point-to-point route will cover just short of 50 miles and almost 5000 feet of climbing and is a serious endeavor. Participants must train for it to be physically able to handle this extreme level of physical challenge. Start logging those miles now. Four fully stocked aid stations at approximately mile 10, 21, 27 and 37.
Check in 6:15 - 7:15 a.m. Start window 6:30 - 7:30 a.m. We highly encourage you to be conditioned enough to complete the course in a reasonable amount of time. Cut off times for Aid Station #3 is 3:30 p.m. and for Aid Station #4 is 4:30 p.m. If you arrive at these check points after this time and you choose to continue you will not have the support of our sweepers.

"Half Arch" Ride: A "pint-sized" version of the classic Full Arch covering approximately 20 miles and 2500 feet of elevation gain starting at Sun Devil Way at Black Mountain Open Space Park, hitting up 2 fully stocked aid stations and on to Green Flash Brewing Company following along the traditional Full Arch Route. Check in 8:00 - 9:15 a.m. Start Window 8:30 - 9:30 a.m. *This is still a challenging ride with plenty of climbing and rugged terrain; suitable for solid intermediate and advanced riders.

REGISTRATION:
Full Arch Ride $95.00
Half Arch Ride $75.00
Includes: ride entry, ride support at start locations and aid stations, 1 lunch ticket, 1 Green Flash beer ticket, 1 opportunity drawing ticket, and custom Arch Ride 2019 Sock Guy Socks!

There is NO Day of Event Registration.

All participants:
Both routes are point-to-point. Transportation is the participant's responsibility. Plan transportation and carpools accordingly . SDMBA does not provide shuttles for this event.
Helmets required
This route passes through many different trail jurisdictions which are almost all for non-motorized transport only. This means that e-bikes are not permitted for use on the Arch Ride (Full or Half).
Registered participants will receive a detailed email on Thursday, April 4 with a route description and map files. We do not publicize the route ahead of time although much of it is rideable year round, weather permitting. Much of the "Full Arch" route is similar to the last few years with a few surprises thrown in. We have special permission on this day only to pass through certain sections of private property to complete this specific Archipelago route.
Minors under 18 entered in the event must be accompanied by parent or legal guardian for their entire ride. No exceptions.
Want to commiserate with other Arch Riders? Ask to join Arch Ride 2019 Facebook Group.
No Refunds for this event. SDMBA reserves the right to cancel or re-schedule an event in the event of inclement weather, emergency, or natural disaster. In the event of such a cancellation, there will be no refund of entry. SDMBA reserves the right to modify or cancel the course for safety concerns, trail condition concerns or natural disaster. Each athlete must accept any such risk of their entry fee paid. Entry fees collected are used to develop and produce the event, starting well in advance of the event date – including course preparation, supplies, permits and administration. We will make every effort to produce a safe event for all participants. Any decision we make that impacts the event date or potential cancellation is carefully considered and based on the overall event safety, sustainability and manageability.
If an athlete cannot participate for any reason, their registration may be transferred to another athlete provided this transfer request is made at least 14 days prior to the event. For any transfers, please contact archride@sdmba.com to update athlete information 14 days prior to the event. SDMBA is not responsible for transferring registration fee as this will have to be handled between the riders.
MEMBERSHIP: SDMBA membership is highly encouraged but not required. Any questions regarding membership status? info@sdmba.com
If you are unable to attend, we will miss you! You can still make a tax-deductible donation to SDMBA to help make trails better in San Diego! DONATE HERE.
---
T-SHIRTS: Arch Ride T-shirts available for order during the registration process for $15.00 each. Fabulous design being worked on as we speak.

JERSEYS: Pre Order store is now closed.
Please note that all Primal custom team store products are PREORDERS and all sales are final. Due to the custom nature of these products, we are unable to accept any returns or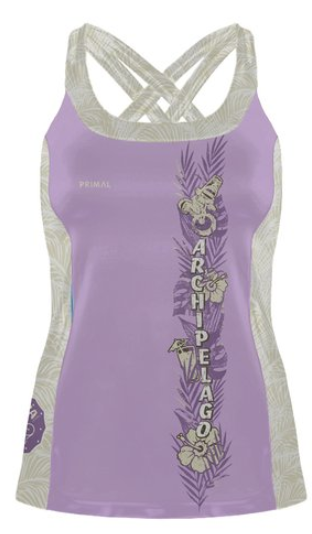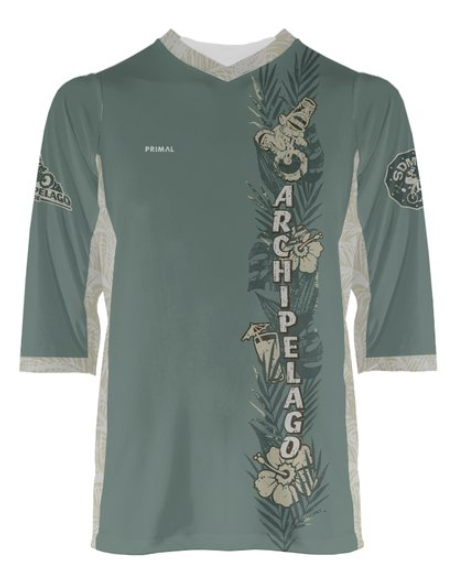 exchanges. For those that pre-ordered, jerseys will be available for pick up at Arch Ride Happy Hour event on Thursday, April 4 at Green Flash 5 - 8 p.m. or at the finish of the Arch Ride on Saturday, April 6.

A limited number of jerseys will be available for sale at the event.


---
VOLUNTEERS: It takes a tiki village to run this event. If you would like to volunteer to join the tribe, contact volunteer@sdmba.com
SPONSORS: If you have other creative ways to support this event or want to reserve vendor space at the finish venue, contact josh@sdmba.com
Proceeds from this fundraising bike ride will go to some of our conservation partners that help preserve and protect our open spaces. Without these conservation partners we would not have these natural places to ride. Funds will also be directed to further SDMBA's mission to provide networks of sustainable trails and bike parks, and provide mountain bikers and other non-motorized trail users with recreational, athletic and educational opportunities.

Questions about event? archride@sdmba.com
Location: Starting locations - San Elijo Park and Black Mountain Open Space Park
Registration ends on
April 1, 2019