Event Registration - Xi Zeta Omega Chapter
Phirst Pham Story Time (Volunteer Sign Up)
4/22/2020 - 6/10/20207:00 PM - 7:45 PM
After a successful AKA Day at the Wilson Building, At-Large Councilmember Robert White has asked us to support

PreK3 to Grade 3 DC scholars and their families during the COVID-19 pandemic.

We need your time to improve District lexile scores by reading bedtime stories to children in PreK3 to Grade 3!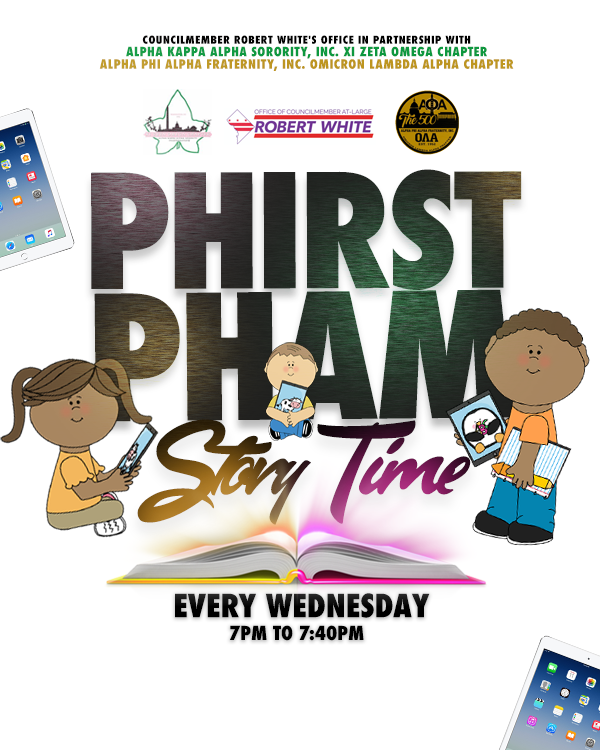 This initiative will be conducted virtually by chapter volunteers led by our Connection committee and Omicron Lambda Alpha Chapter's Social Action and Education committees.
Storytime will be held weekly on Wednesdays from 7pm to 7:40pm, starting starting April 22nd through June 10th.
If you are interested in volunteering, please sign up and contact Sorors Courtney Coffey (
XZOPresident@gmail.com
) and Takema Keyes (
connectionakaxzo@gmail.com
). Additional details on the book list, virtual meeting platform, and other instructions will be provided.
- Sorors Courtney Coffey, Basileus and Takema Keyes, Connection Chair
Location: Zoom Virtual Meeting Platform