Event Registration - Associated General Contractors of New Mexico
Project Manager/Superintendent - Leadership Development Program
10/2/18 - 11/6/183:00 PM - 6:00 PM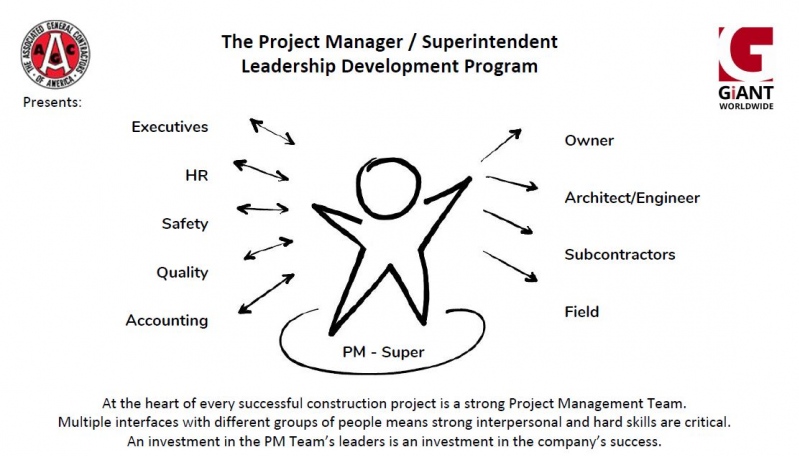 ---
Program Schedule
Participants will meet for 3 hours every Tuesday over 6 weeks.
Time: 3:00-6:00 PM (2 hours invested by the employer, 1 hour invested by employee in self) ** SNACKS PROVIDED
Follow-up group coaching calls: once per month for 6 months to create accountability and reinforce learning
Leader 360 Assessment will be conducted at the beginning of the program.
---
Week 1


Liberation as a Lifestyle
Leading others begins with leading yourself. Take your leadership to the next level beginning with self-awareness.

Leading Change thru Strategic Management
As leaders of your projects and crews learn how to effectively plan and communicate change strategically to set up success for everyone.



Week 2:


Discover Your Voice
Understand your leadership voice, communication style, and the strengths and challenges of others on the other side of you.

Financial Management
Individual projects contribute to the outcome of the financial health of your company. Understand how to track and manage project budgets.



Week 3:


The Power of Your Voice
Learn the defense mechanism of your Leadership Voice and how it interacts with the Voices of those around you.

Real Issues with Discrimination and Harassment
Sending and receiving information can be experienced differently by everyone. Learn what to look for and how to respond to potentially challenging issues.



Week 4


Maximizing Influence
Understand and leverage the power of influence in all of your relationships.

Business Development
When opportunities present themselves it is often difficult to know how to engage them. Learn how to leverage opportunities and take them back to your company as potential future projects.



Week 5


Being Present and Productive
Learn to become present and productive in a world where there is never enough time. Understand how to shift into the right gear at the right time to truly connect with others.

Managing Project Risk by Understanding Your Insurance Program
Identifying
exposure
to
loss
and insurance coverages can be difficult. Learn how to manage and transfer risk by understanding insurance terms and programs.



Week 6


Communication Code
Understand the different styles of communication and the types of questions people ask. Learn how to crack the communication code between yourself and key relationships.

Surety Overview
Bonding is necessary to win projects. Understand how your bonding program works and the impact a project team can have on it.
---
Successful companies are not accidental - they are intentional. It's more than process, budgets, and schedules - it's also about mindset, relationships, and influence. Many Project Management teams leave influence (and opportunity) on the table every day without even knowing it. We'll make sure that's not your PM team.
---
Location: AGC Career Center, 1615 University Blvd NE, Albuquerque, NM 87102