Event Registration - Associated General Contractors of New Mexico
Project Manager/Superintendent - Leadership Development Program PART 1
2/5/2019 - 3/12/20193:00 PM - 6:00 PM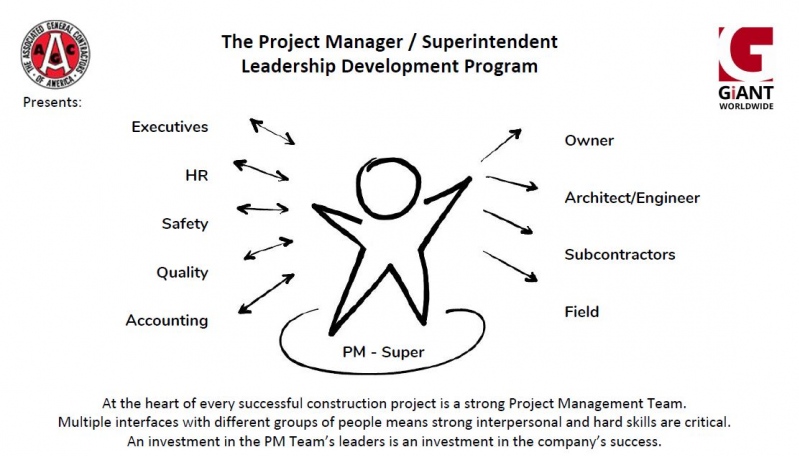 ---
Program Schedule
Participants will meet for 3 hours every Tuesday over 6 weeks.
Time: 3:00-6:00 PM (2 hours invested by the employer, 1 hour invested by employee in self) ** SNACKS PROVIDED
Follow-up group coaching calls: once per month for 6 months to create accountability and reinforce learning
Leader 360 Assessment will be conducted at the beginning of the program.
---
Week

1


Liberation as a Lifestyle
Leading others begins with leading yourself. Take your leadership to the next level beginning with self-awareness.



Week 2


Discover Your Voice
Understand your leadership voice, communication style, and the strengths and challenges of others on the other side of you.



Week 3


The Power of Your Voice /Leading Change
Participants will learn the 5 components of leading change successfully and what happens when one or more of these elements is lacking.



Week 4


Maximizing Influence
Understand and leverage the power of influence in all of your relationships.

Business Development
When opportunities present themselves it is often difficult to know how to engage them. Learn how to leverage opportunities and take them back to your company as potential future projects.



Week 5


Being Present and Productive
Learn to become present and productive in a world where there is never enough time. Understand how to shift into the right gear at the right time to truly connect with others.

Financial Mgt Part 1.
A micro view of project financials will be the focus of this workshop with emphasis on job costs and the areas that need to be monitored closely to ensure project financial health.



Week 6


Communication Code
Understand the different styles of communication and the types of questions people ask. Learn how to crack the communication code between yourself and key relationships.

Financial Mgt Part 2.
A macro view of the financial impact each project has on the overall profitability of the organization.
---
Successful companies are not accidental - they are intentional. It's more than process, budgets, and schedules - it's also about mindset, relationships, and influence. Many Project Management teams leave influence (and opportunity) on the table every day without even knowing it. We'll make sure that's not your PM team.
---
Location: AGC Career Center, 1615 University Blvd NE, Albuquerque, NM 87102