Event Registration - Associated General Contractors of New Mexico
Women of the Construction Industry 'Networking Event'
6/13/2019 - 6/13/20194:30 PM - 5:45 AM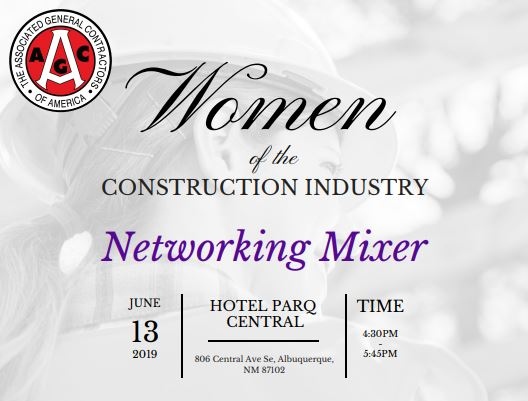 Last year we celebrated with over 180 industry professionals eager to participate in the first annual Women of the Construction Industry event. Based on attendee feedback, we understand building your business support network
is
of
the
utmost
importance.

This year AGC will be continuing our
'Build Your Business Support Network & R.I.S.E.

'
events in addition to the third annual Women of the Construction Industry main event. We hope you will bring a colleague and join us!
Build Your Business Support Network &
R.I.S.E

.
Invest in Relationships: Be intentional about your communication with fellow colleagues and learn to empower others, even in a competing situation.
Elevate in your field Institutionally: Participate in resource groups, events, programs, and policies that foster supportive environments for women in A.C.E industries.
Understand your Self-worth: Look within; who- are you, what- do you stand for, where- self-care, why- to be yourself.

Share your

Experience: "Research shows that women with female mentors are more likely to succeed and be satisfied in their

careers,

with female employees" overall happiness and achievement.
---
Registration Includes:
HORS D'OEUVRES
Pinwheels
Honey siracha chicken satays
Drink ticket (beer or wine)
Location: Hotel Parq Central, 806 Central Ave Se, Albuquerque, NM 87102