Event Registration - San Diego Mountain Biking Association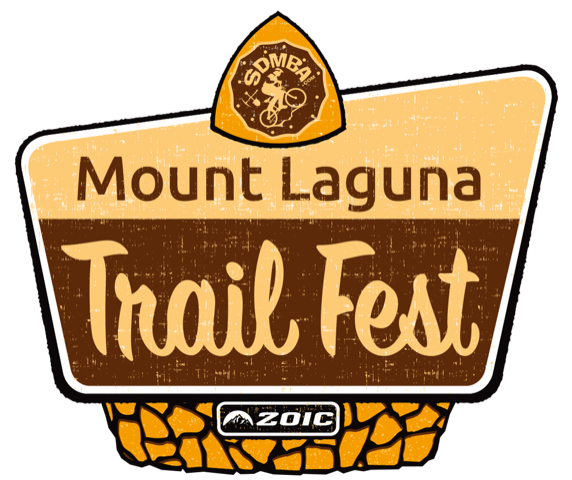 SDMBA Mount Laguna Trail Fest presented by ZOIC
10/18/2019 - 10/20/201912:00 PM - 3:00 PM
Last year was a smashing success and for year two the SDMBA Laguna Trail Fest presented by ZOIC Clothing is growing. Join us for a lively yet intimate gathering of our trail loving friends riding rad bikes, sitting by the fire, sleeping in tents, and sharing good times presented by ZOIC Clothing. Ride the beautiful rolling meadows and woods of Big Laguna Trail with a guided group or explore on your own. Try a demo bikes from a variety of manufacturers including Ibis, Giant/Liv and featuring Your Best Ride Demo Tour with Marin, Evoc, Sena Helmets, Goodyear Tires, and MucOff. 100% will be back for the second year and other vendors will fill out our festival village. Velofix will be camping with us to keep things running smoothly. Enjoy a shuttle ride back to camp with The Beaten Path after your descent down Noble Canyon. Kids MTB fun to be provided by Sprockids San Diego. Sit in the shade in the REI camp lounge and soak in the Mount Laguna vibes at El Prado Group Camp with a cold Sierra Nevada beverages for those over 21. Other surprises to be announced as we get closer.
New this year:
-Camping option at Horse Heaven Group Camp. This beautiful location is a short bike ride away from the main festival but is ideal for any individual, group or family wanting to sleep away from the hustle and bustle. This not only gives participants more options but allows us to increase our very limited capacity a bit. This event sold out quickly last year and even with the additional camping location, we anticipate a rapid sell out.

- 2 night Glamping opportunities with our sponsors Adventure KT and Alter Experiences. Attendees who chose these accommodations would purchase a $75 Day Pass to the Trail Fest which is good for one, two or all three days.
-SOLD OUT: Alter Experiences ,as of 7/25, has one Tree Tent camping spot remaining. Up to 8 people available is space #97 in the public side of Mount Laguna Campground.
-Only two spots left: Adventure KT has 3 all inclusive RV spots (2-5 people each) available in the public side of the Mount Laguna Campground (Sites #19 #21 at Meadow Loop and Site #31 at Shady Loop). See details and make reservations with Adventure KT HERE.
---
Participants can choose from the following Trail Fest options:
Full Festival Pass ($150) that includes two nights of camping, parking and all included activities and other fun!
Day Pass ($75) that includes everything except camping. Good for Friday and/or Saturday and/or Sunday
Kids Full Festival or Day Pass ($20) 13-18 yrs old
Kids under 12 FREE
*All children must be accompanied by a paying adult/guardian. Children must be attended at all times.

ABSOLUTELY NO WALK UP REGISTRATION AVAILABLE FOR THIS EVENT

Directions and venue map HERE
---
Your registration includes:
*Manufacturer Demos from Giant/Liv, Marin, and Ibis and more! (Please bring a valid ID for Bike Demos)
*Kids activities with Sprockids San Diego
*Other vendors and support: 100%, Velofix, Maxima Oils, Laguna Mountain Volunteer Association, and more!

*3 Sierra Nevada Beer Tickets
*Camping (Full Festival Pass only) - Exclusive use of El Prado Group Campground and Horse Heaven Campground by permit of the US Forest Service

*Friday night Dinner and campfire with movies and other surprises by ZOIC
*Guided rides for all levels and all ages throughout the weekend. Limit of 10 riders on each guided ride.
*Saturday Poker Ride with prizes for best and worst hands. 9:00 a.m. - 12:30 p.m.

*Fun and Games with ZOIC and Trick or Treat at Vendor Camp 4:00 p.m. on Saturday

*opportunity drawing on Saturday evening with tons of cool swag!
* "Tacos in the Trees Dinner" on Saturday

*Saturday night campfire with music by Just Jimmy
*Lots of Camp Fun and other surprises to be announced
Sign ups for some activities such as the Poker Ride, guided rides, kids activities and more will happen on site.

Other options:
*Mount Laguna Trail Fest long sleeved Tshirts by ZOIC and beanies available for purchase during registration process for a limited time. Limited supplies availalbe for purchase at event.

*Coffee available for purchase from Gear Grinderz Coffee
*Shuttles offered by The Beaten Path to pick up riders at the bottom of Noble Canyon for $28 each. (sign up for shuttles must be completed during registration process)

*Clinics available with Ninja MTB Performance Coaches. Sign up for clinics available during registration process for $20 each ($250 Value) ; one per participant while available; limited to 14 participants per clinic.
---
---
CAMPING OPTIONS: Camping at El Prado Campground or Horse Heaven Campground is included in a Full Festival Pass for Friday and Saturday nights. We hope you will stay with us both nights. Please let us know during the registration process which nights you plan to camp at El Prado Campground or Horse Heaven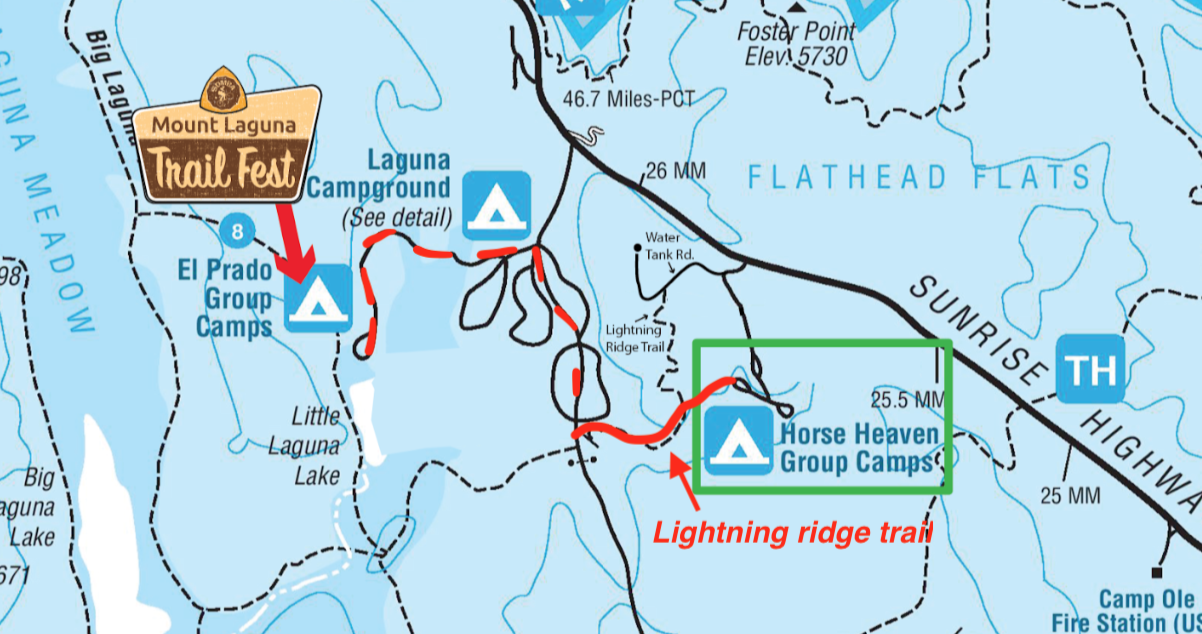 Campground.
El Prado Group Campground is close to the action and consists of 5 camping areas with plenty of room for your tent set up. All camping in El Prado is first come, first served in designated group camp areas. Vans or small campers are acceptable but there is no room for motor homes or trailers in El Prado Campground for this event. Because of the layout of the area and as parking is limited, we may need to ask you to park your car away from your camp area but still within El Prado Campground.

Horse Heaven Group Campground is located approximately ½ mile from El Prado Campground. Access the venue area by hitting Lightning Ridge Trail and then through Mount Laguna Campground to El Prado to join the fun. Ideal for those wanting a quieter option or space for extended family or friends groups. A small number of trailers or motor homes under 24 feet can be accommodated. No hookups.
PARKING: Parking is very limited at both camp areas. A parking pass that will be supplied to all Full Festival registrants by SDMBA upon check in. No cars can enter El Prado Campground or Horse Heaven Campground without a parking pass.
Day Pass holders will need to plan to park remotely (examples: Mile Marker 19, Penny Pines, Agua Dulce, Red Tailed Roost; Adventure Pass required for some areas) and ride into the venue at El Prado Campground. If special accessibility accommodations are needed please contact trailfest@sdmba.com.
See detailed map for alternate parking HERE.

Attendees are responsible to bring all necessary camping equipment to ensure a comfortable stay. While a couple of meals are provided with registration, attendees are responsible for bringing their own additional food required for their needs.
https://adventurekt.com/rv/133346/
---

Join the 2019 Mount Laguna Trail Fest Group on Facebook for updates and other shenanigans.
****NO REFUNDS GIVEN UNDER ANY CIRCUMSTANCES - ALL EVENTS ARE RAIN OR SHINE****

The proceeds from this event will be used to support the trail improvements and new trail development in the Mount Laguna Recreation Area in partnership between SDMBA and the Cleveland National Forest. SDMBA operates under permit on the Cleveland National Forest. Read more...

Questions? trailfest@sdmba.com
Location: El Prado Campground - Mount Laguna Recreation Area
Registration ends on
October 16, 2019