Event Registration - Michigan Downtown Association
Category View
Annual Statewide Michigan Downtowns Conference
10/11/18 - 10/12/18
Driving Downtown Innovation:
Moving Into the Future with Forward Thinking

BROCHURE/REGISTRATION FORM
Innovation is a must for downtowns to succeed. New ideas, creativity, and strategies require focused thinking in areas like affordable housing, transportation, and safety and services. Downtown professionals have always used innovation to their advantage; it's what continues to move downtowns forward. This conference explores innovation in areas such as autonomous vehicles, emergency plans, filling retail space, trash management, housing, tourism, and more. Don't miss this opportunity to discover new ideas, approaches, and strategies that will make your downtowns better than ever.
An MDA Meet & Greet networking event will be held on Thursday, Oct. 11 from 5:30 pm to 7 pm at the Bavarian Inn Restaurant. The event will feature light appetizers and a cash bar.
REGISTRATION & HOTEL
The conference will take place at Zehnder's of Frankenmuth. Room rates for the MDA conference are $99 for Wednesday, Oct. 10 and $129 for Thursday, Oct. 11. Visit www.zehnders.com and use the reservation code 1018michigan. You can also call 1-800-863-7999 to reserve your room. Each guestroom includes up to 4 complimentary waterpark passes daily. Note: The waterpark is closed Oct. 10 and will reopen at noon on October 11. You may also reserve rooms on your own at The Bavarian Lodge, SpringHill Suites, or Fairfield Inn -- no discount codes provided.

Register prior to October 4 and save! For MDA members the early registration rate for this two-day conference is only $160; the early rate for non-members is only $205! Lunch is included on Thursday and a continental breakfast will be served on Friday.
ANNUAL AWARDS
The conference will also feature the MDA's second annual Downtown Revitalization Awards. If you have a project that you think will fit our annual awards criteria and send in a nomination by August 27.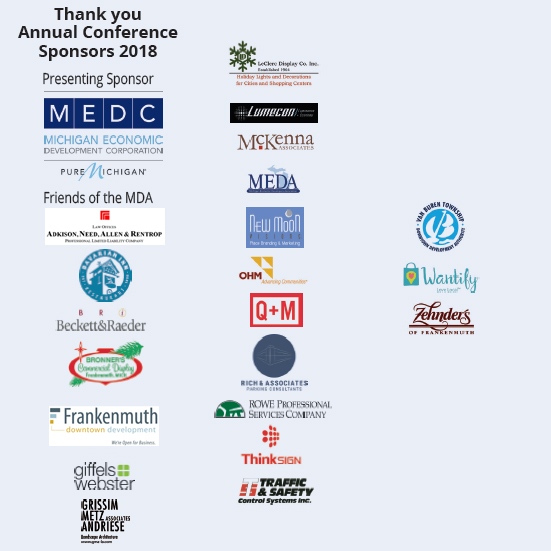 Location: Zehnder's of Frankenmuth
730 S. Main Street
Frankenmuth, MI 48734
---